Are you wondering what to give your dog groomer for Christmas, a birthday, or just something special to say thank you? If so, I've made it easy for you to find the perfect gift with this list of the best gifts for dog groomers.
As the holidays approach, we all start thinking about what gifts we can give our loved ones. For dog owners, this often includes our furry friends!
But what about the people who help us take care of our dogs? The pet groomers make sure our pups look and smell their best after a day at the salon. They deserve a little holiday appreciation too!
Picking out gifts for dog groomers can sometimes seem hard, but it doesn't have to be.
I want to help you make your gift-giving easier, so I went ahead and did all the research to come up with some really cute gift ideas that I think will make your dog groomer extremely happy.
Keep on scrolling to reach the list below
Disclosure: This page contains affiliate links, meaning I earn a commission if you use those links at no cost to you. I always only recommend brands I trust and ones I think you'll love.
---
What is A Good Gift For A Dog Groomer?
There's a few things to remember when choosing the perfect dog groomer gift.
Think about what they would appreciate. Something practical that they can use in their business, or something personal that shows you know them and their interests outside of work?
Consider what type of relationship you have with them. Are they someone you see regularly and are on friendly terms with, or is it more of a professional relationship?
---
Gifts To Thank Your Dog Groomer For Being Awesome
With those things in mind, here are some great gift ideas for your favorite dog groomer that they will love!
---
Dog Groomer Clothes
---
Loyalty Pet Products Grooming Hair-Resistant Leggings are the ideal solution for grooming professionals who value comfort and style. These hair-resistant pants have a smooth, stretchy fabric that is lightweight and breathable. They're designed to keep you looking professional while staying clean and comfy all day. Available in X-Small, Small, Medium, Large, and X-Large women's sizes, Loyalty Pet Products Grooming Hair-Resistant Leggings give you a stylish look that stands up to the rigors of the job.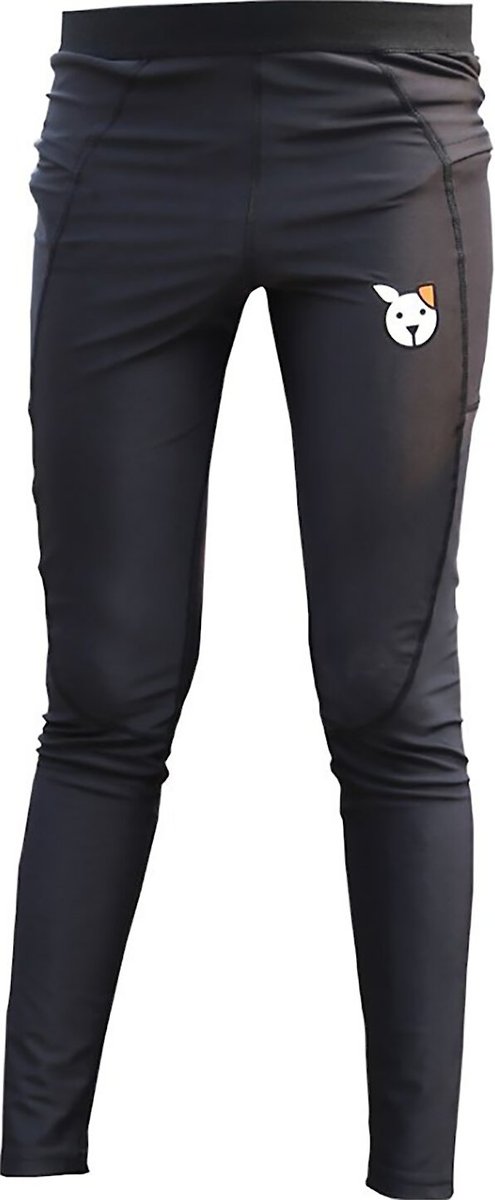 ---
---
Hair Resistant Dog Grooming Gilet or Vest (however you prefer to say it) would make a great gift for your groomer. They can choose to wear it at work or home, and according to the reviews, it's super warm and soft, plus the fact that it is dog hair resistant would put it on top of the list for any dog lover, in my opinion.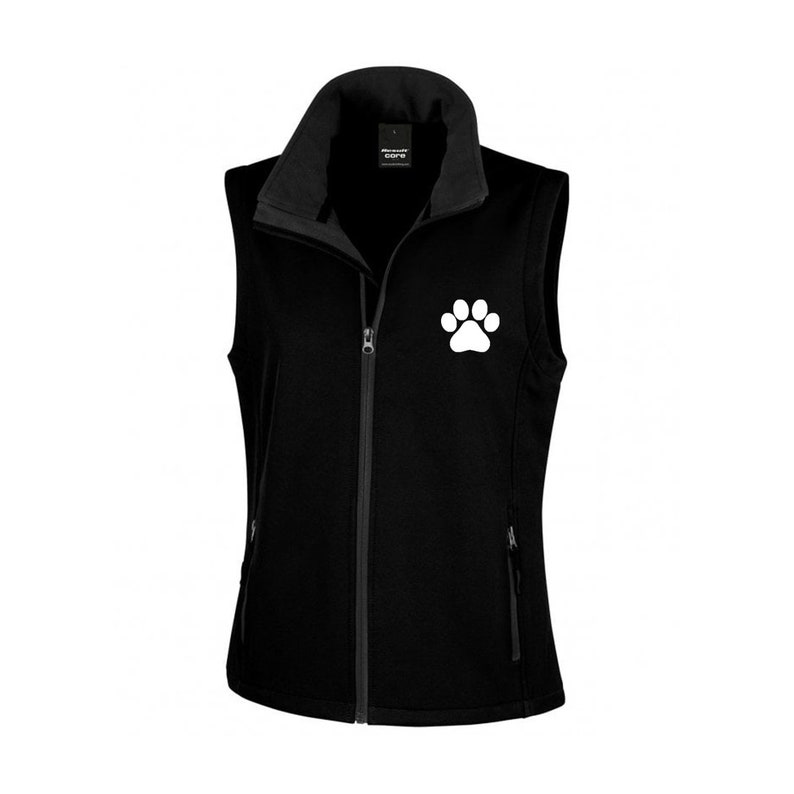 ---
Such a cute dog groomer sweatshirt. It comes in many colors to choose from. The design is perfect for anyone who loves dogs or has a dog grooming business. The shirt is made of soft cotton material and will keep you warm while working with your pets. It makes a great gift for someone who loves their pets as much as you do!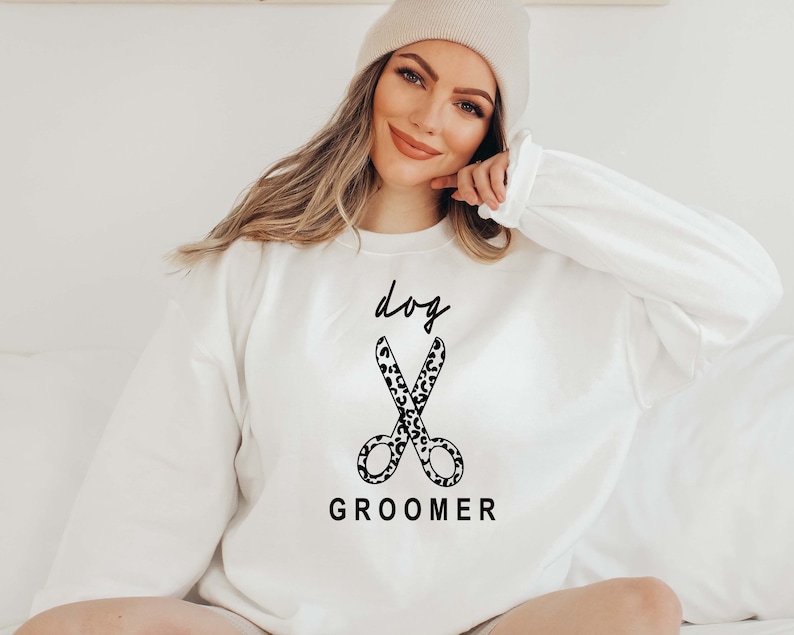 ---
---
Personalized Dog Groomer Gifts
---
Looking for the perfect gift for your favorite dog groomer? Look no further than this stylish and practical zipper bag! Made of waterproof polyester material, it's perfect for holding your grooming supplies, tools, and products. The fun and colorful quote on the front will make your dog groomer smile, and the hardy zipper ensures everything stays safe and sound.
Whether you're looking for a thank-you gift, a birthday present, or just a way to show your appreciation, this is a perfect choice.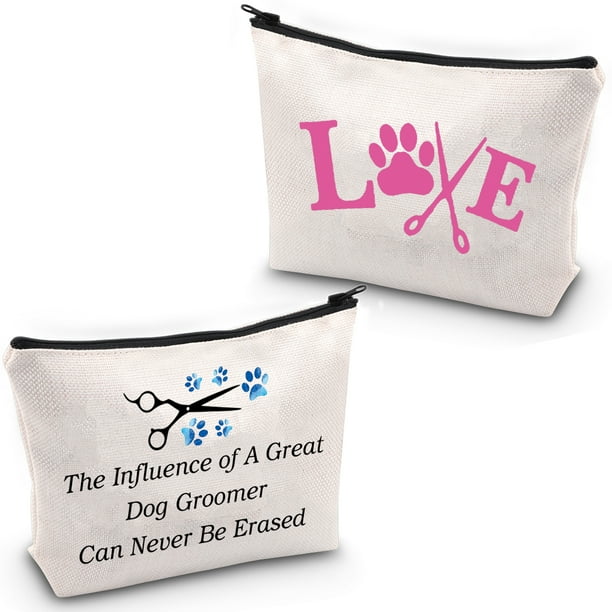 ---
---
Show your appreciation for your dog groomer with this unique and special candle. The paw print topper and dog groomer label make it the perfect thank-you gift. Made with 100% natural soy wax, this four oz. candle will fill any room with the fresh, clean scent of "FURever Loved." Not only is this a thoughtful and practical gift, but a portion of the proceeds will be donated to animals in need.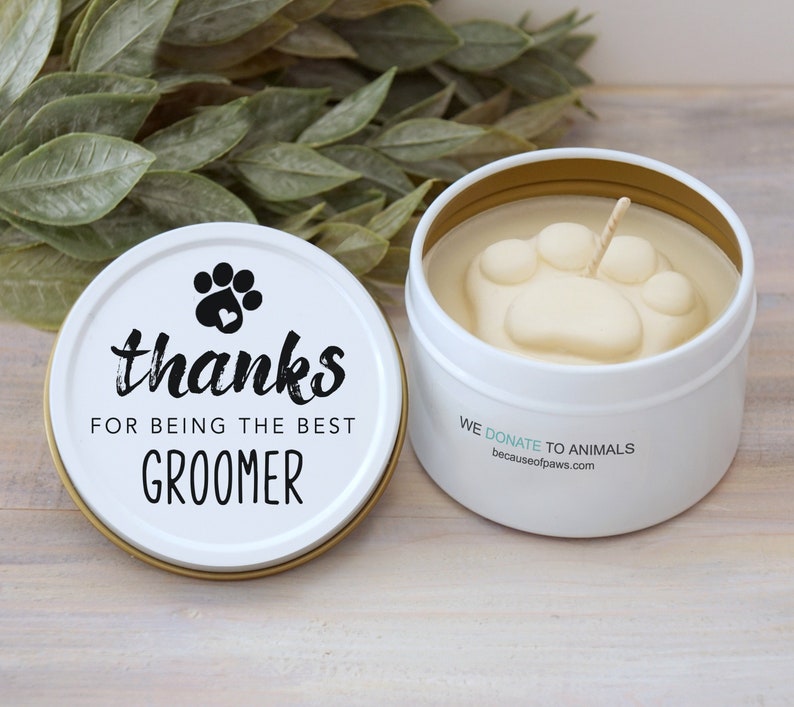 ---
Looking for a fun and unique gift for your favorite dog groomer? then check out this amazing coffee mug! This mug will surely put a smile on your groomer's face, perfect for enjoying a cup of coffee or tea. Made of high-quality ceramic, this mug is dishwasher and microwave safe. Plus, it's printed on both sides so that everyone can enjoy the beautiful design. Whether you're looking for a birthday, holiday, or just because gift, you can't go wrong with this gift… I know I would love it. Lol.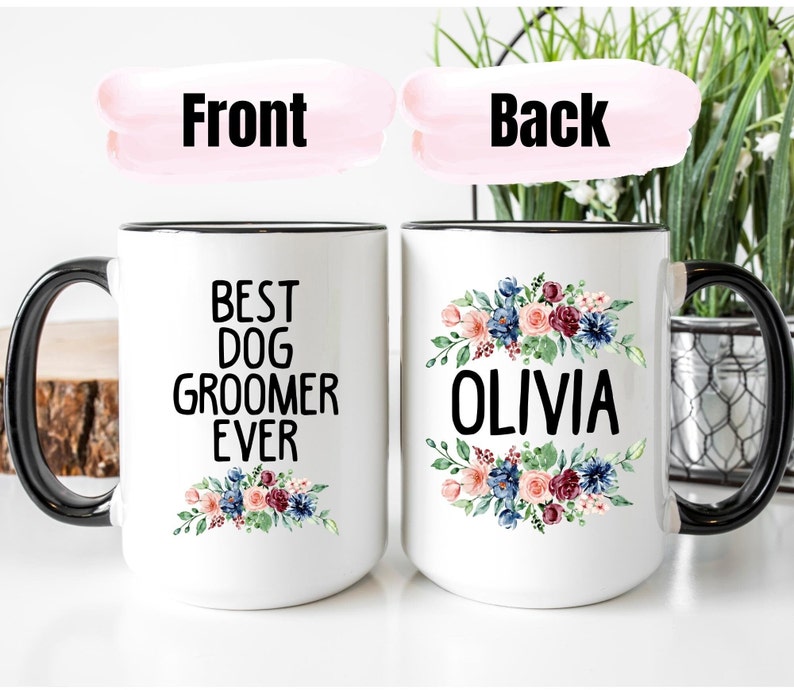 ---
Here is a unique and thoughtful gift for the dog groomer in your life. This dog groomer keychain is just what you need! Featuring a 3D dog charm and a scissors charm, it's the perfect way to show how much you appreciate all that they do. Plus, the pre-engraved charm with the "dog groomer" name is a unique touch that will make them happy every time they use it.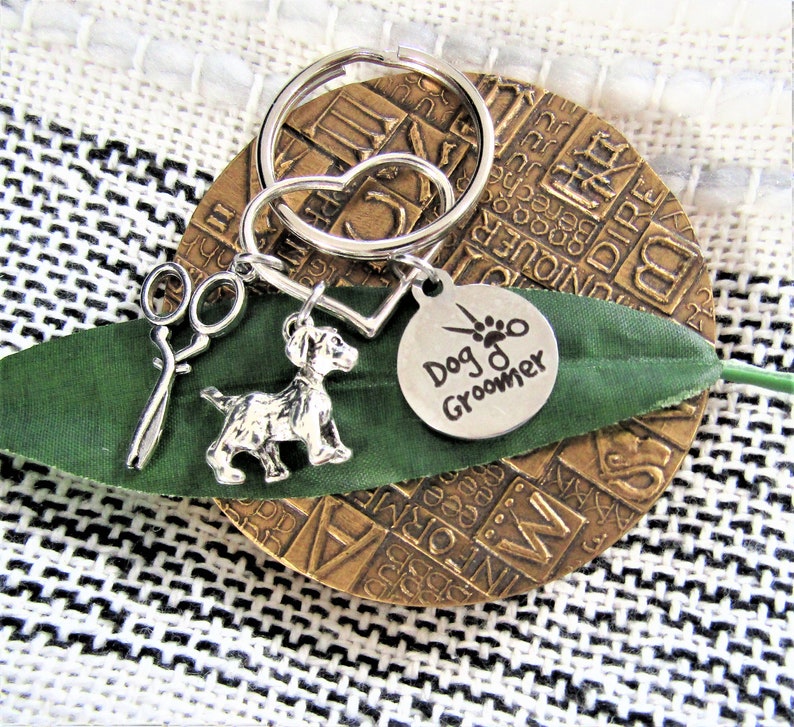 ---
Dog Groomer Gift Basket
Another great option for gifts for dog groomers is to put together a beautiful gift basket for your dog stylish you can use some of the products I mentioned above, or one of my favorite ideas is to make a spa basket for your dog groomer since they help us make our dogs smell and looking great we can do the same for them in return.
Below are some of my favorite items to add to the basket.

---
Dog Groomer Essentials
---
All groomers could always use more work essentials. The Ladybird Line Paw Print Dog Bather's Apron is the perfect accessory for any pet groomer. Made from water-repellent, bleach-resistant fabric, this apron is built to last. With two front pockets and an adjustable neckband, this apron is both functional and comfortable. Machine washable for easy care, this apron is sure to be a staple in your grooming supplies. 100% satisfaction guaranteed.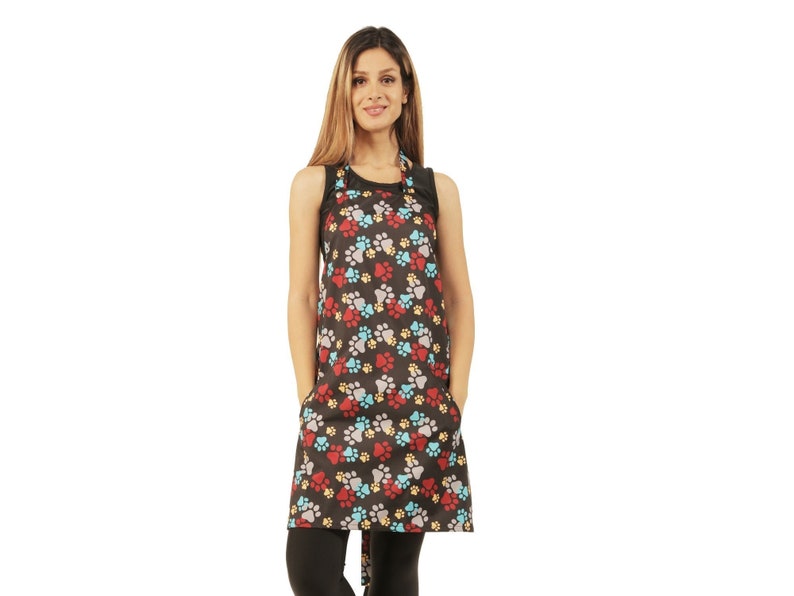 ---
This is a stylish and functional dog groomer smock. From the Ladybird Line! Its leopard print waterproof jackets are perfect for keeping you dry and comfortable while you work. The added zipper panel ensures you stay dry during bathing, and the waterproof and hair-repellent fabric is perfect for daily use. Plus, the unique leopard print design ensures that your style will stand out from the rest. It will make a wonderful gift, for sure.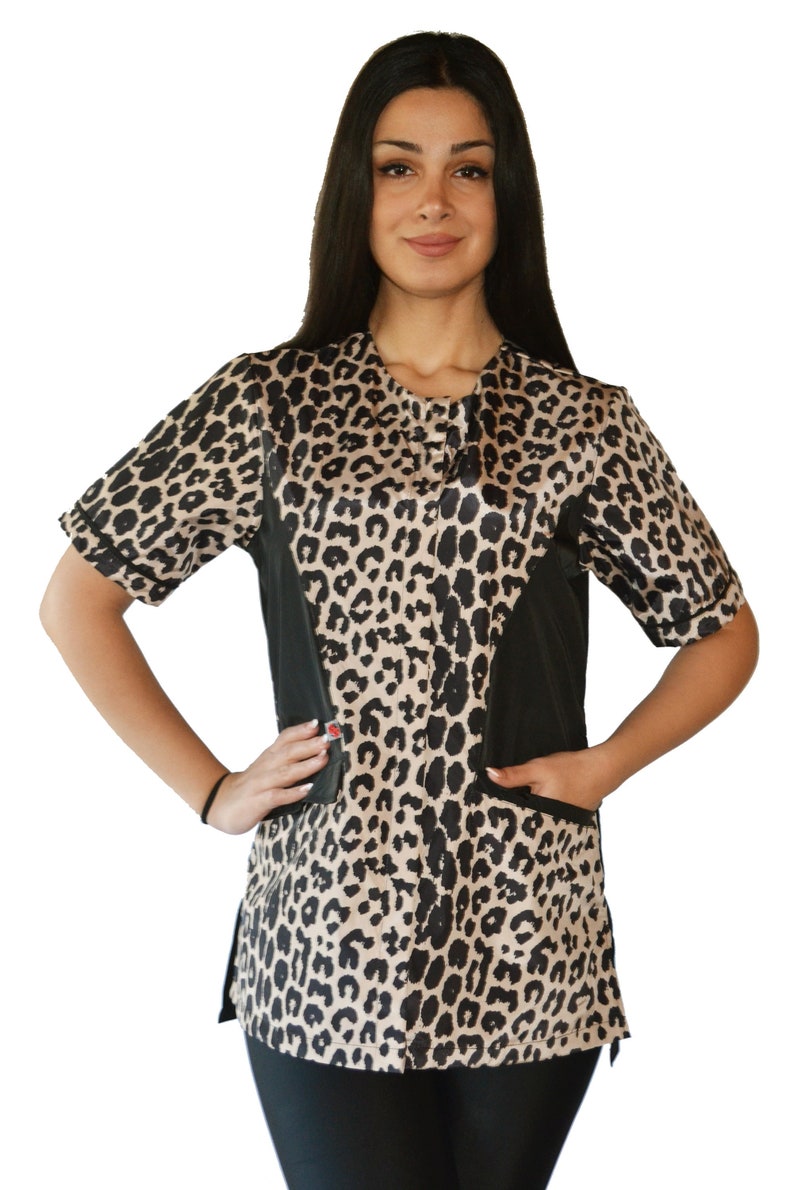 ---
Introducing the personalized dog groomer tote bag! This roomy and functional bag is perfect for storing all your dog grooming supplies. The caddy features six storage pockets, a zipper top, and canvas construction for durability. Personalize it with your name, initials, or dog's name in your choice of thread color.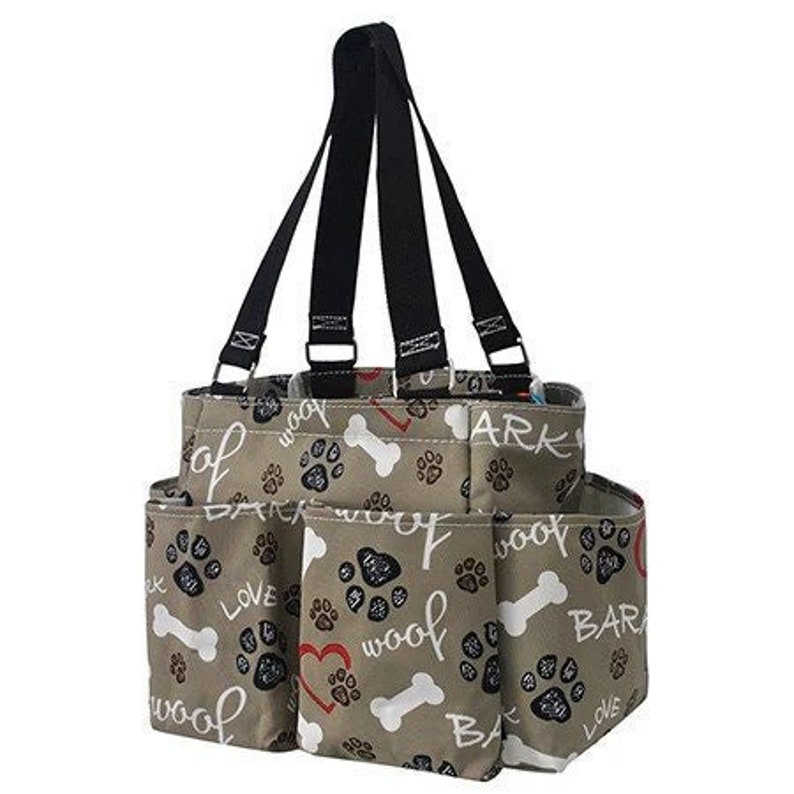 ---
More Gift Guides To Read:
---
Final Thoughts: Gifts For Dog Groomers
I hope you have found this list of the best gifts for dog groomers helpful.
No matter what you choose, your favorite dog groomer will surely appreciate any gesture of appreciation for all their hard work, especially during the holidays or any time of the year.
Go ahead and take a little extra time to show them how much you care, and give them a gift showing how much you appreciate all they do for your furry friend!
Until next time,
Have a paw-some day!
P.S. Leave me a comment below to let me know what you like the most from this list of dog groomer gift ideas, and also, do me a favor…don't forget to share so others can get one of these great gifts for their dog groomer.